On Saturday evening, November 26, The Royal Hotel held its annual gala dinner for the Isle of Wight Youth Trust, a charity that supports local children suffering from challenging circumstances. Since the first Gala Dinner in 2009, this event has become a favourite with local celebrities including Youth Trust patrons Rob and Josie da Bank and Level 42 frontman, Mark King. Over the eight years that The Royal has been hosting this event, it has helped raise a staggering £310,000.
The funds raised supports professional, free counselling service the Youth Trust offers to Island children and Young people. Last year alone, more than 800 children and young people accessed this invaluable service.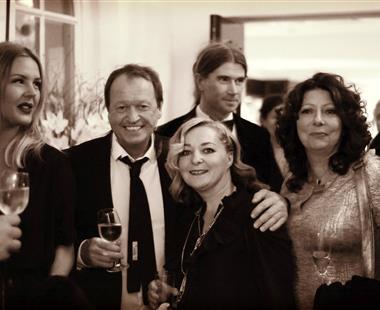 Bestival organiser Rob Da Bank comments that,
"the gala dinner at The Royal is such a treat…an incredible charity having loads of money raised for it in the luxurious environs of The Royal - I love that hotel, it feels like stepping back in time…just for the night!".
The evening kicked off with a champagne and canapé reception, and after guests had enjoyed a splendid four-course meal accompanied by unlimited wine, they had the opportunity to bid for 'money can't buy' prizes to raise money for the Trust. 
As Wightlink's Mark Persad observes,
"Donations from these gifts allow needy families to enjoy happier times."
Thank you to the following businesses.
This fund raising gala dinner for the Youth Trust would not be possible without the generosity of local businesses. These include: Rebecca Ball – Hose Rhodes & Dickson Auction Rooms, Peter Tautz – Toastmaster, Wight & Wessex Wines, Isle of Wight County Press, Rob da Bank, Style of Wight, Widget Productions, Beardsalls, Galvin at Windows, Mike Thompson, Camp Bestival, Tapnell Farm, Ticketline, The Cabin, Wight Karting, The Garlic Farm, Ryde School, Mark Waldron & Linda Dennis, Ryde Lawn Tennis & Croquet Club, PhysioCare and Sport Injury Clinic, Gianpaolo Mario Photography, High Adventure Paragliding,Lisa Heath Wearable Art, The Constant Doodler, Great Rail Journeys, Olivo Restaurants, Yoga with Emma, Land Rover BAR, Powered Now, Wine Therapy, Keats Cottage, Living Larder, Tipsy Wight, BeCalmed, Maplin, BAFTA.