2019 at The Royal began with a new member of the Bailey family joining the hotel's management team - William's eldest son, Dr Greg Bailey.
Although he was born on the Isle of Wight, and grew up in the hotel itself, Greg didn't immediately follow his father into the hospitality industry, but chose a rather different way to care for people, training in medicine and working as a doctor for four years. But following a sabbatical last year, when Greg and his half-brother, Jude Massey, rowed across the Atlantic ocean to raise funds for skin cancer, he decided to follow that challenge with another: learning the ropes back at his father's hotel. He comments on this career sea-change, "Like many medics who have taken an opportunity to grow and develop new career paths, transitioning from emergency medicine to hospitality feels very natural, after having grown up in the hotel."
Greg not only has his father's support, but has hospitality firmly embedded in his genes, as his grandparents, Pamela and Lionel Bailey, ran hotels on the Isle of Wight for many years, making Greg the third generation of the Bailey family to work at The Royal. Greg remembers "wallpaper hanging off when William bought the hotel…and all the different stages The Royal has been through over the last twenty-five years. It's great to now work in the hotel myself, and I'm enjoying every minute of it."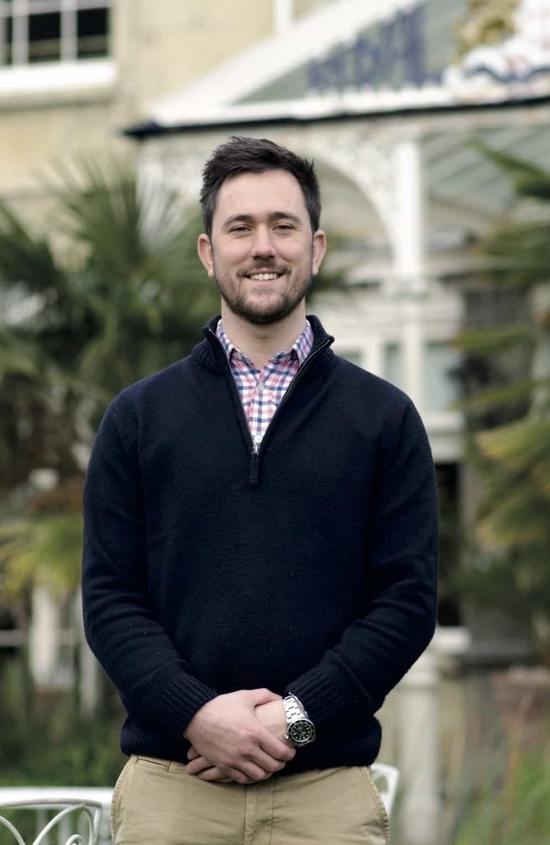 (Image Credit Style of Wight Magazine)
Of course, it's a steep learning curve to understand how all the different departments of a busy hotel are run, but Greg has never shied away from a challenge - at the age of thirteen, he became the youngest climber to scale France's highest peak, Mont Blanc. Now, back home on the Island, Greg is throwing himself into his new role, with plans to "improve in all areas of the hotel over the next ten years, as part of a gradual refurbishment plan which maintains the elegance and colonial style of The Royal and its long heritage."
Greg's father, William Bailey, has long believed that one doesn't actually own a hotel, but simply serves as its custodian. He is delighted that Greg has decided to join the family business, "I'm immensely proud and pleased to have Greg on board. He works terrifically hard, and will make a brilliant Managing Director, as and when the time eventually comes for me to retire. His grandparents would be overjoyed to see him carrying on the family business for another generation".