Andrew Woodland recently joined The Royal as its new General Manager, responsible for overseeing the hotel's day-to-day operation, and keeping everything running smoothly from breakfast through to dinner. He has enjoyed a highly successful career in coastal hotels, including managing the Royal Bath Hotel in Bournemouth, and Sandbanks Hotel on the iconic Sandbanks Peninsula; Andrew was also chairman of the Bournemouth Hotels Association, and chairman of the Bournemouth & Poole Tourism Management Board. Now he brings this wealth of experience across the hospitality industry to The Royal Hotel, describing the Island's premier hotel as an "oasis of calm" on the South Coast.
During its busiest months, Andrew will manage up to seventy staff, starting his working day at 7.30am and personally greeting many of The Royal's guests and visitors. Each morning, he meets with all the Heads of Department to ensure he is kept up to date with every aspect of hotel life, and will then oversee lunch service and afternoon tea, before checking in with the admin staff to discuss recruitment requirements or any new purchases. On busy nights, Andrew helps out in the kitchen until the last main course has been served, before he can finally head home himself and relax with a well-earned glass of wine!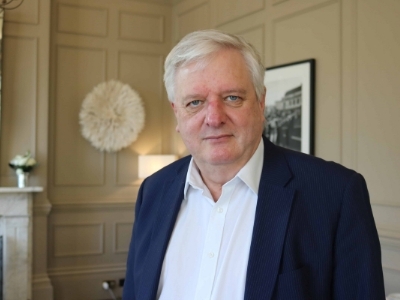 We asked him what he believes is the secret to running a successful hotel:
"Any manager should be accessible and approachable to staff and guests alike. I am also instilling in staff a 'can-do' attitude, and encouraging them to see The Royal through the eyes of our customers".
What makes The Royal distinct?
"This is such a beautiful Island - around every corner there is something special! The Royal allows our guests to enjoy the very best of the island, from its stunning coastline and unspoilt landscape to its exceptional seasonal ingredients and fascinating heritage."
What are your aspirations for The Royal?
"I would like to raise its profile, so that all generations can benefit from it. I also want to encourage Islanders to enjoy using all that we have to offer, including being one of the superlative dining venues on the Island."
How are you enjoying Island life?
"Arriving in winter, I am using the quieter months to get to know the Island before the busy summer season begins!"