White-tailed eagles were once a common sight on the Isle of Wight - and, indeed, along the whole of the south coast, from Cornwall to Kent - until these handsome birds of prey were driven to near-extinction in the 18th century. Now, Natural England is working with Forestry England and the Roy Dennis Wildlife Foundation to encourage white-tailed eagles to re-populate southern England.

The Isle of Wight was considered the perfect location to re-introduce England's largest bird of prey, thanks to the wealth of potential nesting sites in the Island's woods and cliffs. The Solent and its surrounding estuaries also provide a good source of food, given the eagles' preference for fishing in shallow water and scavenging for carrion.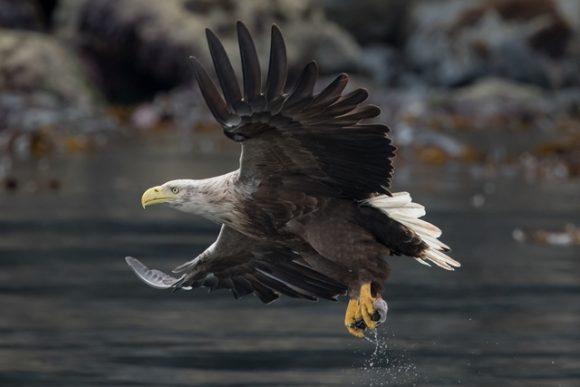 'Culver' is one of six, juvenile, white-tailed eagles, originally from a nest on the Isle of Skye, that were released on the Isle of Wight in August 2019. Each eagle was fitted with a satellite transmitter which logs the bird's location every three minutes, revealing each bird's flight path and their unique airborne adventures.
After an incredible eight day flight around southern England, taking in Sussex, London and Essex (covering over 680 kilometres!), Culver returned to the Island - rather poetically making landfall over Culver Cliff – the site of the last known pair of breeding white-tailed eagles, and the place he's named after. You can see images of his flight path and follow updates and news about Culver and the other young eagles who were released on the Isle of Wight last summer here.
We sincerely hope that these beautiful birds will choose to settle on the Island and, in time, restore this species to the south coast. White-tailed eagles only begin breeding once they are five years old, and even then may only fledge one young every two years, so the increase in their population is likely to be slow. But successful re-introduction of white-tailed eagles to Scotland and Ireland gives us hope that Culver and friends are here to stay.